Here is a preview of our Calgary studio! Check out our gallery for more!
We LOVE our boudoir studio, it is a home based studio that we designed specifically for boudoir. Our studio is located in Calgary's south east quadrant in the community of Walden, just south of Chaparral Lake.
Although we have been in the boudoir photography business in Calgary for over 10 years, this studio is only 3 years old as we moved here from our Auburn Bay Studio.
Our new boudoir photography studio is now a bungalow, the main floor is light, airy with 15′ ceilings, tons of natural light which is awesome for natural light photography. We have a gorgeous chef's kitchen that is perfect for more of a fun and sassy boudoir look.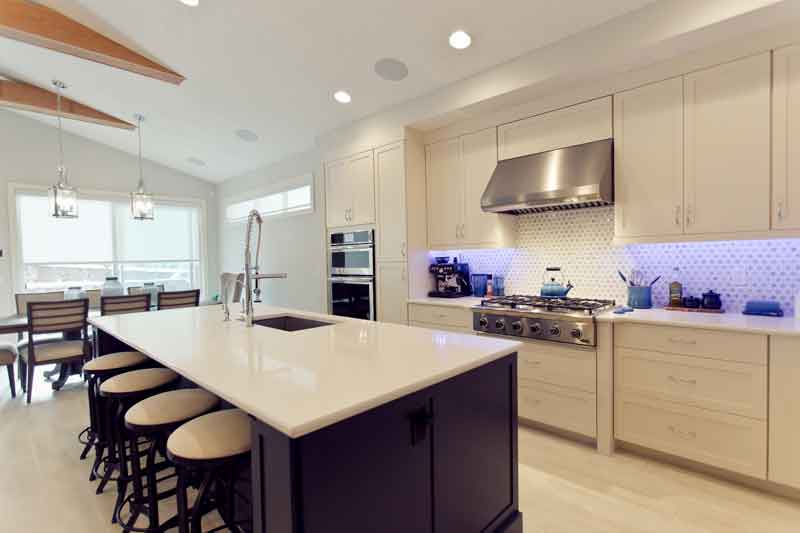 The living area of our boudoir studio is full of natural light and lighter tones than our dark and moody lower level. We have this giant rustic Restoration Hardware coffee table that looks stunning with a gorgeous client laying or sitting right on top. The texture and the added drama by making the shot more moody and sultry.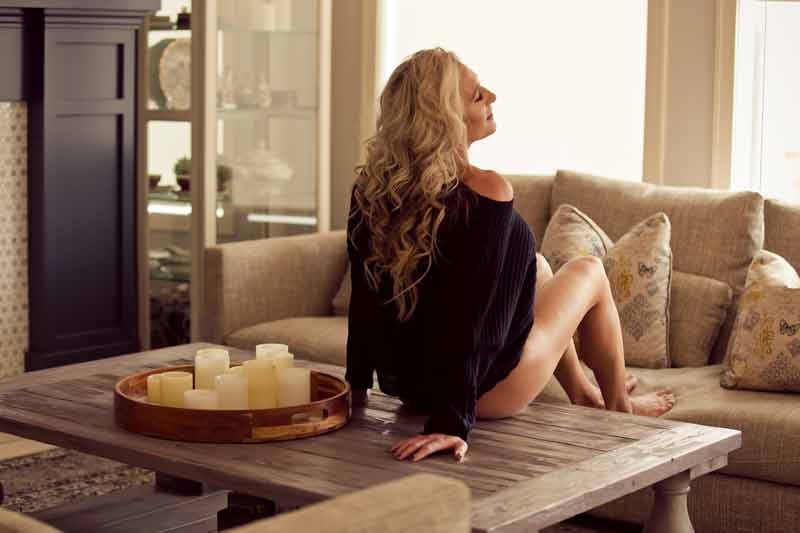 Moving on to the bedroom look, this room is a touch darker and moodier than the rest of the main floor. This is where the shoot typically gets more moody, spicy and more seductive.
Now we can move down to the lower level of our boudoir studio where the decor is inspired by a classy speak easy! Dark blue grey wainscoting wall that spans the entire length of the lower level, accented with 2 36″modern crystal chandeliers that I can tell you that I have obsessed over for months before finally biting the bullet and splurging on these beauties.
These chandelier sure add to the glamorous look we were after. To add to the already moody feeling we have gorgeous pink and blue tones at the bar.
We also have a BEAUTIFUL upright piano from the 1800's that adds so much romance and overall elegance to the space that we use it nearly every single time!
The lower level has modular low couches that you would likely not want to get up from at all as they suck you in and comfort you.
We also have a functioning guitar if that is something you would love to incorporate into your boudoir shoot.
Here are some of the samples from the lower level of our studio.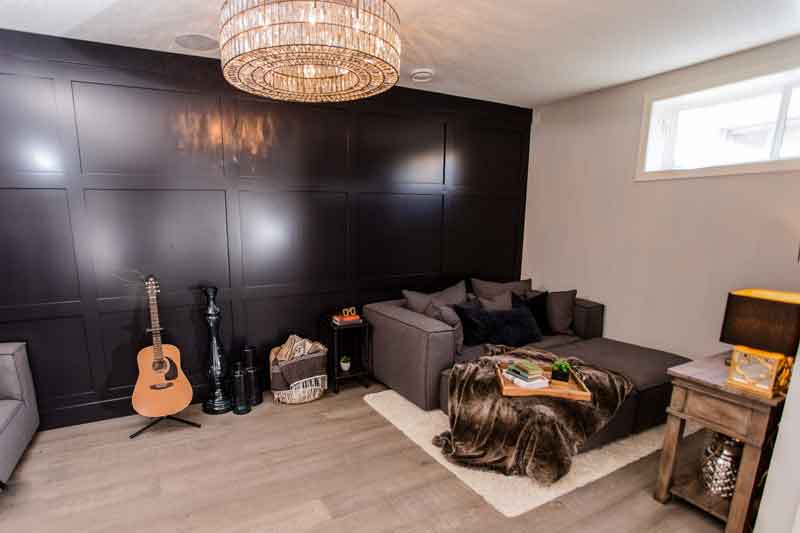 In short, we have the look, the experience and the affordable prices and albums to make your boudoir photography experience not one you will soon forget.
Our mission is to show you how gorgeous you are from a different perspective, setting, and lights.
We have experience shooting women of all shapes, sizes and ages. We know how to pose every body type in the most flattering way possible without altering you in Photoshop to the point of you not looking like yourself. The whole idea here is for you to fall back in love with yourself, exactly the way you are right now.
Our editing is very minimal, we remove blemishes, bruises and air brush you just enough without losing your authenticity.
Interested in dropping by the studio to see all of this with your own eyes and chat about the look we can achieve for your boudoir experience?
Click here to send us a message.